Villa Hera - Baile Herculane
Villa Hera - Baile Herculane
44.87846

,

22.41606
$$$$
|
View on map
Baile Herculane

,

Romania
|
Reservation:
+1-855-260-7038
|
46 photos
77US$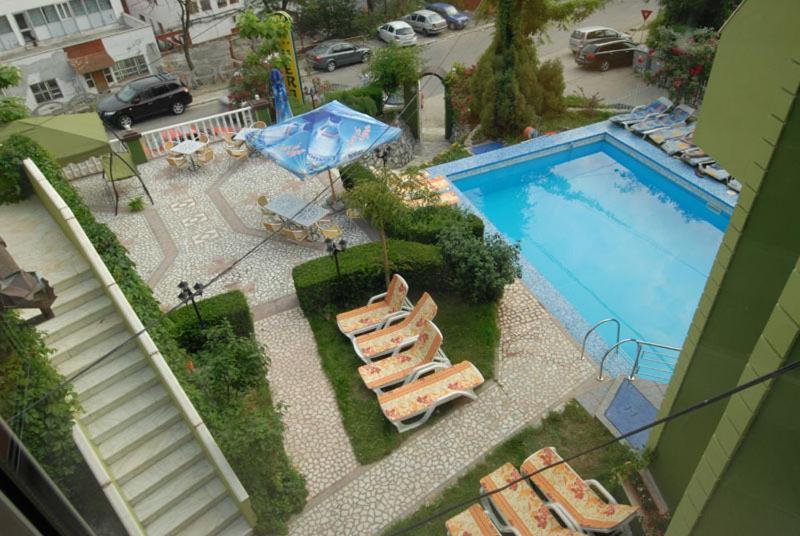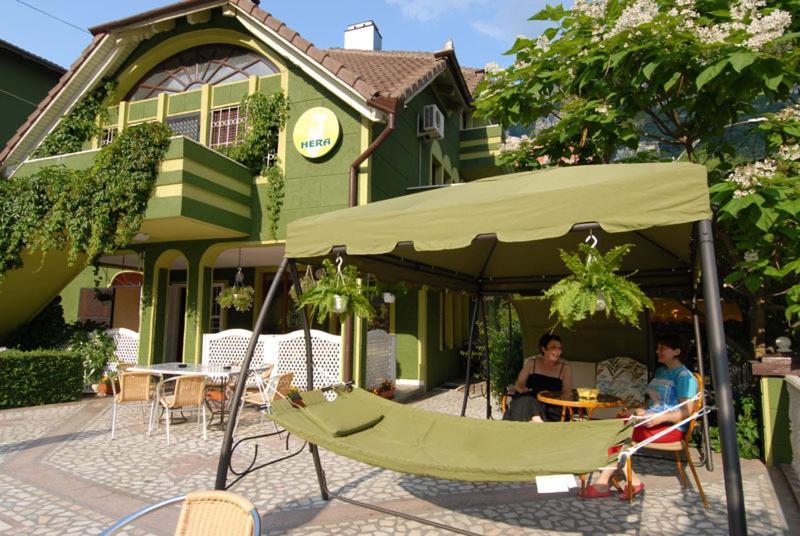 Villa Hera - Baile Herculane
Highlights
Hotel Awards
Romania Hotel Awards
Villa Hera,
Baile Herculane
highly recommended
Address
Complexelor 3
,
Baile Herculane
,
Romania
,
325200
,Transylvania
Overview
Featuring a seasonal outdoor pool, the 3-star Villa Hera Baile Herculane is set 0.9 miles from Izvorul Diana Nr.3 Museum. Parking is provided nearby.
Location
The center of Baile Herculane can be reached within a 5-minute walk, and natural attractions like National Park Domogled are 0.8 miles away. Guests will enjoy visiting Varful Domogledul Mic 1099m, situated within a 5-minute drive of the guest house. Croce Bianca is minutes' driving from this Baile Herculane hotel.
Rooms
Villa Hera offers 16 rooms with a mini fridge bar, and such modern conveniences as multi-channel TV. A shower together with amenities like guest toiletries and towels are also at guests' disposal. Some rooms enjoy views of the mountain.
Eat & Drink
Breakfast is served every morning in the restaurant. The bar Terasa Veritass is located 750 feet away.
Leisure & Business
Guests can request for a sun terrace and a community pool at an extra charge. Beach facilities at the Villa Hera include lounge chairs and sunshades. Guests can have fun indulging in table tennis and billiards offered on-site.
Internet
Wireless internet is available in public areas for free.
Guest Parking
Public parking is possible at a location nearby for free.
The hotel staff speaks English, German, Romanian.
Number of rooms:   16.
Facilities
Most popular facilities
Free Wi-Fi
Free Wi-Fi in public areas
General
Free Wi-Fi
Food/ Drinks
Swimming pool
Good to know
Check-in
from 13:00-16:00
FREE
Check-out
from 11:00-12:00
FREE
Children & extra beds
Maximum capacity of extra beds in a room is 1. 
Pets
Pets are allowed on request.
Rooms and availability
Standard Double or Twin Room building A

Bed options:

Room size:

165 sq. feet

Max:

2 persons
Superior Double or Twin Room building B

Bed options:

Room size:

165 sq. feet

Max:

2 persons
Garden view

Shower

Balcony

Air conditioning
Location
Complexelor 3
,
Baile Herculane
,
Romania
,
325200
,Transylvania
City landmarks
Nearby
Restaurants
Hotels nearby
Piața Hercules 4
Fontana di Hercules
1.1 mi
Cerna Valley
National Park Domogled
200 yd
Stone bridge over Cerna River in Baile Herculane
1.0 mi
Herculane Spa Museum
200 yd
DJ608D 5-1
Hercules square in Baile Herculane
1.1 mi
Herculane Central Park
200 yd
Strada Izvorului 2
Izvorul Diana Nr.3
1.1 mi
Manastirea Ortodoxa Nasterea Maicii Domnului
1.2 mi
Biserica Romano-Catolica
1.2 mi
Coronini Plateau and Caves
1.3 mi
Băile Herculane
Outlaws Grotto Cave Thieves
1.4 mi
Varful Domogledul Mic 1099m
1.4 mi
Romana Street Next to the Roman Hotel
Gara Baile Herculane
1.8 mi
Varful Domogled 1105m
1.8 mi
Restaurant
Restaurant Pizzerie Cristal
200 yd
Restaurant
Restaurant la Nico
200 yd
You can book a shuttle, once your reservation is complete.
Essential information about Villa Hera
| | |
| --- | --- |
| 💵 Lowest price | 77 US$ |
| 📏 Distance to center | 100 yd |
| 🗺️ Location rating | 10.0 |
Reviews of Villa Hera
David

I loved the owner, staff, food, location, rooms, cleanliness, swimming pool, and cats. A place I'll definitely return to with pleasure.

Everything was fantastic.

missing

Great service , tasty food, swimming-pool and thermal water included. We really enjoyed our stay at Villa Hera.

wi-fi is not available in the room, but there is an internet connection at the hotel.

missing

Very nice hotel ,I enjoyed to stay there.

Martin

I thoroughly enjoyed my stay here. The hotel's location near the center of town made it easy for me to explore and access transportation. The staff were friendly and accommodating and the cleanliness of the rooms was exceptional. Additionally, the hotel facilities such as the swimming pool and breakfast spread were top-notch.

Not obvious to find.

missing

The soothingly quite environment was calm and peaceful thanks to the tranquil view of the Carpathian Mountains. After my trip I came to the conclusion that this vila was located in the best spot in Herculane overlooking an extravagant view. The sense of peace and quite continued with my discovery of the amazing pools... Thats right I said pool! Each pool had something different to offer. One pool is a regular swing pool like one would expect at a hotel or motel, and the other is something really special that I have never seen in any other vila. The special pool is equipped with natural thermal water which contains Sulfur. This pool is made for natural healing and relaxation. Other than the view and the pools, the vila itself has a restaurant inside where the chefs make the food from scratch every day. The food is delicious and one can tell that the chefs work hard to serve the guests the best food they can. The restaurant also features an outside dining area which is highly recommended by me if you want to really soak in the fantastic view this vila is known for. During my stay I noticed that the owner, a polite and friendly lady, walking around the vila checking with the guests to make sure that everything they need or want is taken care of and they are as pleased and as comfortable as possible. OverallI I felt very relaxed during my stay thanks to the respectful staff who were very well trained, the subtle view (which I can not get over), and the gracious host.

missing

Spacious room, nice breakfast (if you like sausages)

They asked us to pay in Euros, The swimming pool has began to have small pieces broken (and was not so clean), The room was OK, but was wanting in taste.

Anthony

The hotel was situated near the center of the town which made it very convenient for us to access restaurants and kiosks. The outdoor terrace was well-equipped with comfortable seating which made for a relaxing getaway. We also enjoyed the indoor private bath for mineral waters which catered to our love for the spa experience.

Our room was quite noisy and located on a different floor from our friends' room. The cleanliness of our room was average, and we expected better for the price we paid.

Tom

Spent Easter in a charming hotel with stunning mountain views. We enjoyed delicious homemade meals with a variety of options and the staff was always willing to help. The terrace and pool were perfect for relaxation and fun.

The room was quite small for the price we paid and there was a strange smell coming from the bathroom. The hot water took a long time to come through and we often found long hairs around the bathroom.

Paul

Located conveniently in the heart of the town, this hotel offers clean and comfortable rooms with good service. The rooms are well equipped and some offer balconies with scenic views. Guests can enjoy a good breakfast and discuss dinner options with menu choices to be home-cooked at any time. The terrace area is perfect for relaxing, having a soak in the sulfur bath or swimming in a clean pool.

Some guests may encounter difficulties with access to all areas of the hotel, especially for those with mobility issues.
FAQ about Villa Hera
How far is the city center from the Villa Hera?
Baile Herculane city center is reachable within a 5-minute walk from the Villa Hera.
Which landmarks should we visit during our stay at the 3-star Villa Hera?
Top-rated landmarks in Baile Herculane include Fontana di Hercules as well as National Park Domogled, placed within 1 miles and 0.8 miles from the 3-star Villa Hera respectively. Domogled (1.1 miles) is also worth a visit.
Can we park our car at Villa Hera?
Yes, Villa Hera features a parking lot available nearby.
Can I have lunch or dinner next to the Villa Hera?
The closest restaurants are Terasa Veritass and Restaurant la Nico, placed about 750 feet away from the Villa Hera.
Does the Baile Herculane guest house serve breakfast?
Yes, guests of the Baile Herculane guest house can enjoy a buffet breakfast served daily in the restaurant.
How much does a room at the Villa Hera cost?
The price for a room in the Villa Hera starts at €77.
Which facilities are included in the rooms at the Villa Hera?
Most rooms of the Villa Hera include a balcony and a sitting area as well as cable channels.
Is the staff at the Villa Hera multilingual?
Yes, the staff of the Villa Hera can help you in Romanian, German and English.
Are there any cleaning services provided at the Villa Hera?
Yes, the Villa Hera provides laundry service and housekeeping.
What are the spa options at the Baile Herculane hotel?
Spa facilities in the Baile Herculane hotel include a wellness facility and an outdoor swimming pool.
Is swimming pool available at the Villa Hera?
Yes, the Villa Hera features a swimming pool.